Rudolph Law Offices
Attorney Mike Rudolph
For more than thirty years, Attorney Mike Rudolph has devoted himself to defending people charged with criminal or drunken driving charges.

Regarded by many as the Fox River Valley's best criminal defense lawyer, Attorney Mike Rudolph has tried more than one hundred jury trials in more than twenty-five Courts across Wisconsin, negotiating many dismissals and winning many outright acquittals.

Today, Attorney Rudolph continues the legacy of a stellar trial record, with the majority of his cases in Appleton and throughout Outagamie, Calumet, Winnebago, Brown and Oconto Counties.
Areas of Practice
Drunken Driving Defense
Wisconsin laws are tough. They include fines, jail time, loss of driving privileges and, sometimes, devices put on vehicles interferring with and embarassing a person. Accidents can increase the punishments, and deaths caused by accidents when a person is drunk have very severe sentences. If you have been arrested for a OWI/DUI you can dramatically improve your chances of having a much better outcome by taking the proper immediate action to defend yourself against the OWI/DUI charge.
See Also: Drunk Driving | Drunk Driving Defense Results | Field Sobriety Tests | Drunk Driving Offense | Refusal To Test | Test Refusal Hearing | Test Refusal Penalties | Vehicular Homicide
Criminal Defense
Attorney Mike Rudolph represents people accused of committing criminal offenses. You can count on Mike to properly guide and inform you throughout the entire legal process, from the initial consultation to the judgment or settlement. If you are facing criminal charges, call Attorney Rudolph (at 920-730-8533) to learn why you aren't going to jail today.
See Also: Criminal Defense | Wisconsin Theft Laws | Embezzlement Laws | Forgery Laws | Fraud Defense | Robbery Laws | Burglary Defense | Felon In Possession | Felony Murder | Reckless Homicide | Negligent Homicide
Location
Rudolph Law Offices is located in Appleton, Wisconsin, 'between the locks' at 111 East South River Street. Attorney Mike Rudolph most frequently represents people whose cases are heard in the Courts located in Outagamie County and Winnebago County; he also frequently appears in Calumet County and Brown County.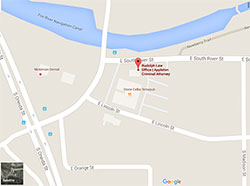 The majority of those cases arise out of incidents charged in the following cities: Appleton, Allouez, Ashwaubenon, Bellevue, Black Creek, Brillion, Clintonville, Combined Locks, De Pere, Denmark, Grand Chute, Green Bay, Hobart, Hortonville, Howard, Kaukauna, Kiel, Village of Kimberly, Lawrence, Menasha, New London, Ledgeview, Little Chute, Menasha, Neenah, New Holstein, New London, Omro, Oshkosh, Pulaski, Seymour, Shiocton, Suamico, Waupacua, Winnebago, Winneconne, and Wrightstown, Wisconsin.

Please feel free to call (920-730-8533) him directly with any legal questions or to schedule a consultation.
See Also: Contact Attorney Mike Rudolph | About Attorney Mike rudolph
Contact Attorney Rudolph Today!
Please feel free to contact Attorney Rudolph directly at 920-730-8533 to schedule a consultation. If you prefer to be contacted by us, please fill out our online form.